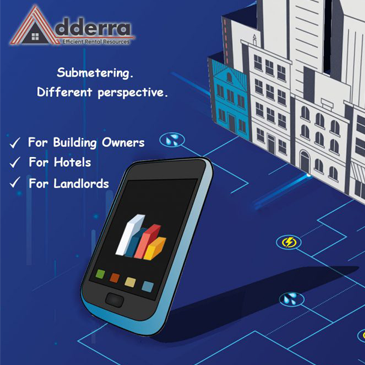 Taking actions is what moves modern society, development is the motivation for the movement and technology is the trigger. Metering industry is not an exception. It's time to say "Au revoir" to the mechanical meters with their old mechanisms and inaccurate measures. Mechanical meters have been in place for many years but today it is time replace them with smart meters.
Impetuously changing demands and developing technologies brought a big amount of variety of offers on the market. Including metering solutions that support and push forward your business. That is why ADDERRA came up with a new of submetering solution. Simpler, more efficient and last but not least technologically more advanced.
The submetering solution by ADDERRA gives a combination of gadgets that together create experience: smart meter, modern application, wireless connection and prepayment system. Yes, ADDERRA gives the possibility to prepay for water and electricity that minimizes waste and overconsumption of the utilities. ADDERRA gives you a complete overview of water and electricity consumption. ADDERRA makes an ideal fit for both landlords and hotels. ADDERRA helps to eliminate additional estimations of potential consumption by tenants, the service allows them to independently plan and think how much water or electricity they will need. This feature increases energy efficiency and makes the billing process for tenants more accurate.
Also, ADDERRA is based on automatic data collection that eliminates the hustle of writing down the numbers and going around the meters in order to collect all the necessary data. Everything is processed digitally and allows the property owners to detect errors quickly without any damages and loses to the business.
In order to help you better manage your resources, our devices feature: accurate, reliable metrology; up to 20-year useful lifespan in the field; a variety of tamper, leak and other advanced measurement capabilities; and the ability to integrate with communications and networking technologies.
ADDERRA invests time, energy and money to ensure that our devices lead the market in quality, innovation, reliability, safety and value. From delivering what you need today in order to ensure success in the future, ADDERRA delivers results. We're constantly evolving and innovating to support new capabilities.
ADDERRA is about Minimum risks, Maximum tenants, Attractive rental price.