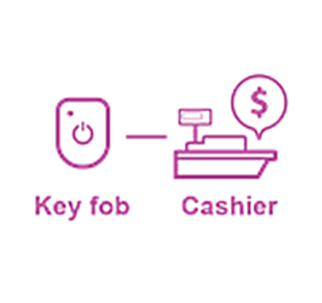 Step 1. The landlord installs Adderra electricity and water meters in each room that is rented out. An account is created for these meters, which is linked to the payment system where the money from each transaction goes.
Step 2. The tenant moves into the room, makes check-in, scans the QR code from the meter, downloads ADDERRA app on his smartphone, and uses that app to buy some electricity or water via Bluetooth. Once the credit runs out, the tenant has to top it up.
Step 3. The payment information comes to the meter in the form of a digital token, which determines how many cubic meters of water and kilowatt/hours of electricity the meter should count.
The whole process takes place automatically without the landlord's involvement. If the tenant has not used all the resources he has paid for, the landlord refunds the unused amount after moving out and checking-out.
A personal contact between tenant and landlord is not required in this case.
ADDERRA solution will allow landlords to separate the cost of electricity and water from the cost of rent and removes the unexpected expenses for lanlord. This will ensure a more efficient use of resources, both in terms of potential environmental protection and in terms of money.
Regarding prepayment or post-payment, for landlords providing short-term rent and hotels the first option is more acceptable, as it saves them from the risk of not completing the deal at check out. That is why prepayment is more convenient for short-term rentals.
Other options are possible for long-term rentals, including working on credit. When working on credit, tenant has the option to pay for utilities by a certain date set by the parties in the agreement. It is also possible to use the variant when the tenant pays for the services when the set limit of consumption is reached.
The main objective of ADDERRA is to greatly simplify the relationship between the landlord and the tenant.
How does key-fob work?
It is important to note that for hotels there is another function that improves the mechanism of work: key-fob. When a client comes to booking, he sees two options: all-inclusive or pay for water and electricity separately (ADDERRA). When coming directly to the hotel, the visitor does not go into details, does not download the application to his smartphone, but simply takes a key-fob at the reception, which serves as a simplified version of this service. Key-fob is already tied to specific meters and it already has a certain amount of energy and water resources that can be spent. Bluetooth technology is used for its operation.
There are no self-billing systems similar to ADDERRA in the world yet. Hotels do not yet have the practice of installing meters in every hotel room.
That is why non-payments for utilities in the world (for rented accommodation) reach 2 billion euros per year.