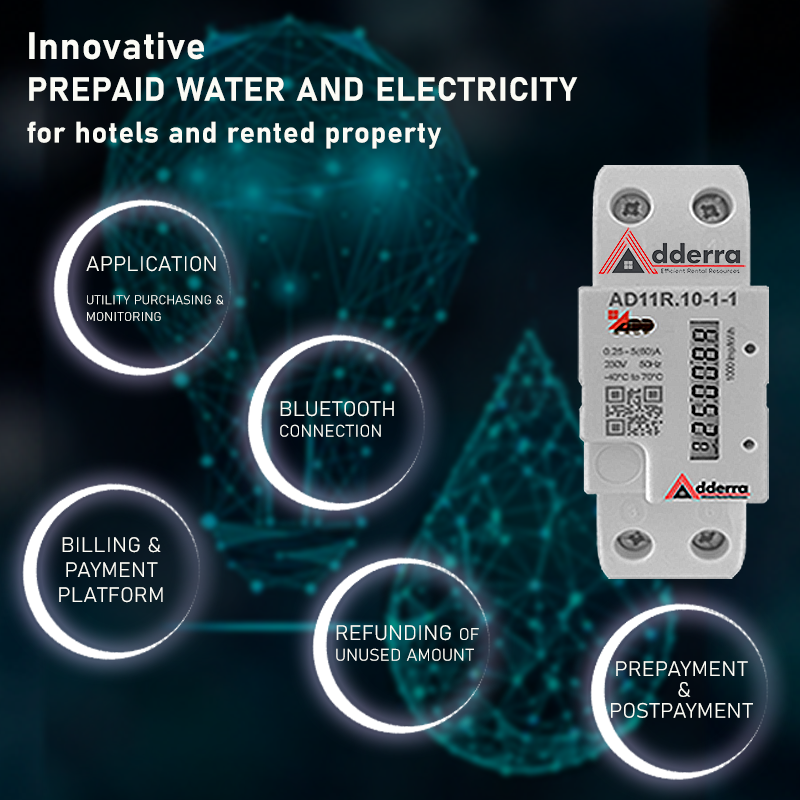 Utility prepayment is becoming a trend among the owners of rental property as it improves the utility efficiency. The millennials and generation Z, being environmentally conscious consumers, also accept contentedly such payment option to rationalize the resource usage.
So, having taken into consideration the needs of clients, Adderra redesigned water and electricity prepayment into completely online process to maximize its user-friendliness. The digitalization simplifies and accelerates the procedure of prepayment for tenants and, on other hand, eases the utility management and payment collection for landlords.
What is the exclusive innovation of Adderra prepaid electricity and water meters?
Firstly, the smartphone application. We developed prepaid electricity and water app that allows the following:
To buy prepaid electricity and water online with credit card. The information about the payment is transferred directly to the prepaid meter from the app and the consumer can immediately start using the resources.
Possibility of electricity and water use monitoring online. Tenants can track their consumption of utilities, thus having a clear understanding of how much utilities are still available and when they should recharge the meter.
The second innovative feature is the built-in Bluetooth function into the Adderra's pay as you go meters. What does it enable?
Fast and direct connection of a tenant to the meter through smartphone application.
Easy meter installation. Bluetooth function precludes the implementation of complex additional infrastructures like RF (Radio Frequency) or powerline communication. As a result, the installation of Adderra's prepaid meter is quite simple and it can be placed near the main meter or inside the boxes with circuit-breakers.
Budget-friendly prepayment meters.
Furthermore, we integrated smartphone application and Bluetooth prepayment meter with billing & payment platform. The platform presents the following functionalities:
Minimization of landlord's involvement in the collection process of tenants' payments for water and electricity. All the payments come on the landlord's Paypal/Sripe account for its further transfer to the utility supply company.
Refunding of the unused amount. As all the data regarding the tenant consumption and payment are stored at Adderra's platform, it becomes possible to determine the remaining utility credit after the tenants' check-out which further is transferred back on their credit card.
Option to reconfigure Adderra's meter into postpaid meter or adapt payments based on a preset credit limit mode. In case landlord and tenant agree for a postpaid mode that might be convenient for long-term rent, tenants can pay after the actual use of resources or as they reach the pre-established limits expressed in monetary value.
For more information visit www.adderra.com  or contact us at info@adderra.com